Memorial Trees in Honor of Willed Body Program Donors
A Living Tribute
With thoughts of comfort and peace, these trees were planted by The University of Arizona College of Medicine medical students in memory of your loved one.

This memorial is provided by the Medical Humanities Program and the Willed Body Program.
Update 11/04/2020 ATTENTION: Trees A through J have been replanted due to construction. We are in the process of getting new plaques and a new map. We apologize for the inconvenience and will update the site as soon as they become available.
Directions to the Willed Body Program Memorial
Take Speedway Boulevard to Cherry Avenue and go north on Cherry Avenue to Drachman Street.
Metered parking is available east of Cherry Avenue between Mabel Street and Drachman Street.
From the parking lot, head northeast toward the Health Sciences Library and College of Medicine Bookstore entrances.
The Willed Body Program Memorial has the location of the trees planted in dedication of body donors with the Willed Body Program.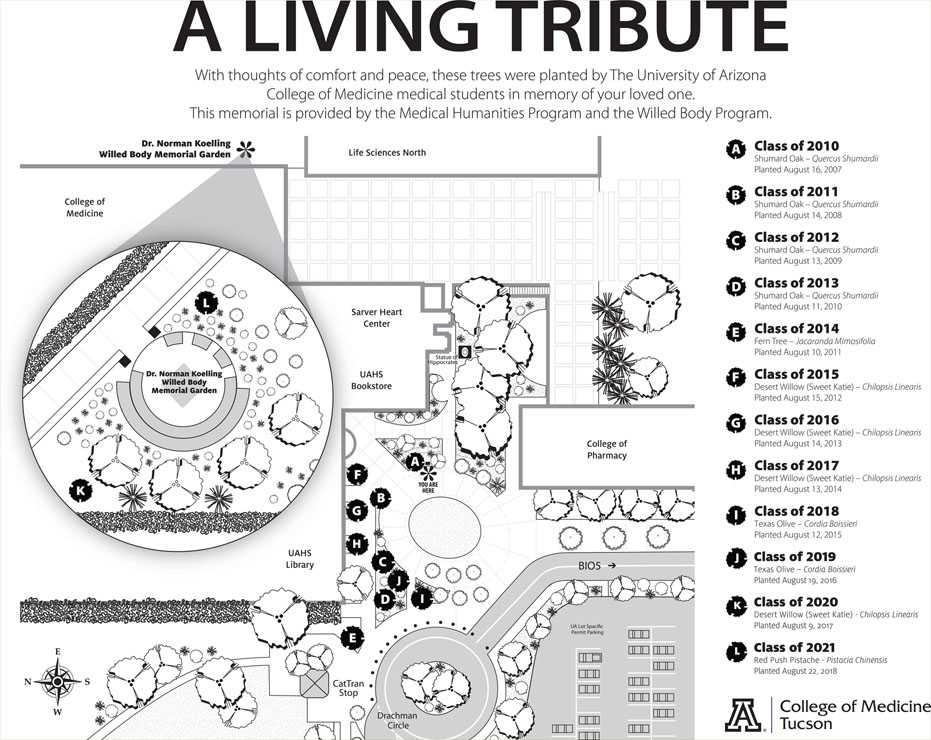 Map of the Willed Body Program Memorial. Click on the image for a larger version.
Photos of all trees planted in honor of the Willed Body Program body donors are listed below. Photos were taken in 2013 and will be updated periodically. Click on the tree or the class name to see a larger view.